Time Recording Finger scan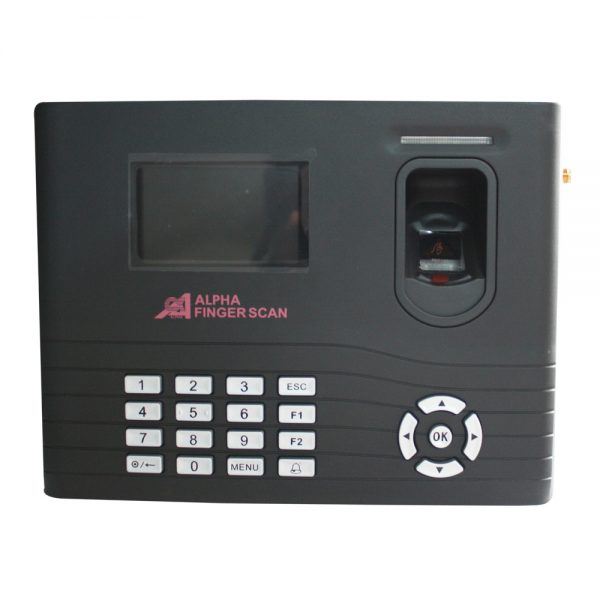 ALPHA FINGER SCAN ALP-7400
Fingerprint & Proximity ID Time Attendance and Access Control Terminal.
Fingerprint Capacity: 3,000 templates
Transaction Capacity: 100,000
Communication: RS232/485, TCP/IP, USB-Client, USB-Host
Access Control Interface for: electric lock, door sensor, exit button , alarm, door bell
Standard Functions: Wi-Fi, 9 Digits ID, Work code, SMS, DLST, Self-Service Query, Automatic Status Switch, Back-up battery, anti-pass back.
Power Supply: 12V DC 3A
Display: 3-inch TFT Screen
Operating Humidity: 20% – 80%
Dimension: (WxHxD) 210 x 157 x 50 mm
ALPHA FINGER SCAN ALP-7500
ALP-7500, with SSR report (Self-Service-Recorder) stored in the time clock, it is the best choice for small chain stores. You can retrieve the employee s' information and arrange shifts simply and easily in Excel format. Via USB disk or SD card, complex wire connection and IP setting can be avoided. It has been designed with ergonomics struc-ture, extremely thin and slim. 3 inches TFT
can display more information vividly, includ-ing fingerprint image quality and verification result etc.
Display: 3 inches TFT Screen
Fingerprint Capacity: 1,500
Transaction Capacity: 50,000
Communication: SD card, USB-Client, USB-Host
Standard Functions: 9 Digit ID, SMS, Work code, DLST, SSR Recorder, Self-Service Query, Automatic Status Switch, T9 Input
Power Supply: 5V DC 2A
Operating Humidity: 20% – 80%
Dimension: (WxHxD) 185 x 140 x 30 mm